TLDR
MosaicDrops has launched three Alpha Drops

Each celebrates a different technical achievement in our alpha journey

The third Alpha Drop is now available to claim

It's available to only people who claimed one of two previous Drops
---
A new type of loyalty rewards platform
A few months ago, the Mosaic team set off to create a new loyalty rewards platform. I'll explain why in more detail in a separate post soon.
Since the launch of MosaicDrops, we have been making steady progress, launching our rewards contracts and a refreshed claim site.
To test out the loyalty rewards function, we planned three Alpha Drops. Each adding a layer of complexity and innovation.
The first Alpha Drop was issued on August 23rd. We quickly followed it up with the second Alpha Drop on September 4th.
The first drop introduce our new rewards contract on Optimism. The second previewed our open edition rewards capabilities. This third, and final, Alpha Drop now demonstrates exclusive rewards available only to allowed participants. The allow list for the third drop includes everyone who claimed one of two previous Alpha Drops.
Why should you claim?
We are inviting everyone who joined us on our alpha journey to claim this third Alpha Drop. They are a signal that you support our vision and building in public.
Alpha Drops are free to claim on Optimism. However, you will need some ETH in your Optimism wallet to pay transaction fees.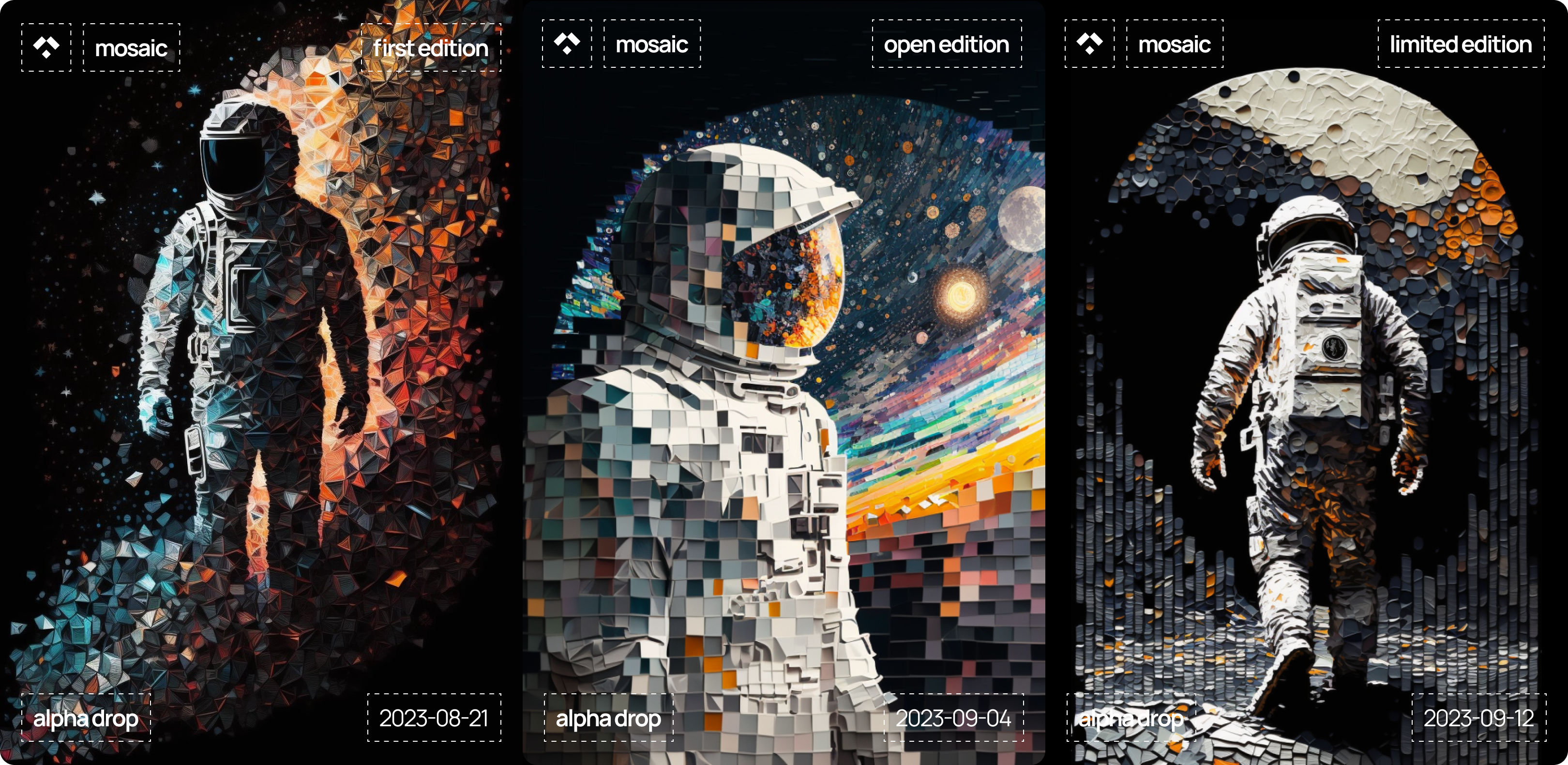 Have you noticed a pattern in the artwork?
Eagle-eyed observers may have noticed a pattern in the loyalty rewards artwork. We introduced Astro (a fictional character who traverses the Mosaicverse) in the first edition. We imagined Astro walking out from the Mosaicverse and towards your screen welcoming you to the alpha journey. The second drop sees Astro in between worlds, observing the wonders of the Mosaicverse and inviting you in. Finally, the last drop depicts Astro walking back into the portal that first brought him into your world.
What awaits Astro? You'll have to wait to find out.
How to claim
Go to claim.mosaicdrops.com and sign in with your wallet, switch to the Optimism network, and claim the loyalty NFT. You must use the same wallet from which you claimed one of two previous drops. It's free to claim, but you will need some ETH to pay for the transaction fee.
---
Make sure to subscribe to this newsletter, if you haven't already. We're continuing to work on MosaicDrops to bring you the best onchain loyalty rewards platform.
See you in the Mosaicverse,
Humpty (aka thedatadood)
Collect this post to permanently own it.
Subscribe to Onchain Alpha and never miss a post.