Firstly, I want to welcome the over 1,000 new subscribers. Many of you joined through the sign up link on Mosaic Drops. It's great to have you all here. I promise not to spam your mailbox. That said, you are welcome to unsubscribe. I hope you don't. 🙂
If you are not yet subscribed, please do so now.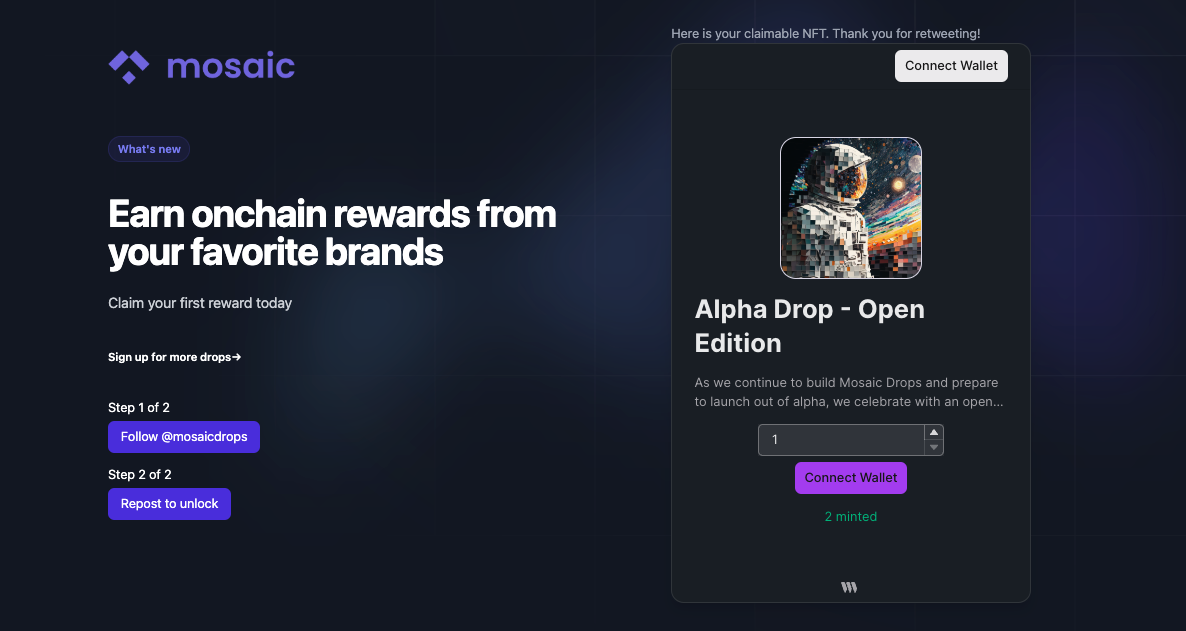 Earlier today, we launched the second Alpha Drop. In case you are wondering what these drops represent, here is a brief introduction.
Firstly, Mosaic Drops is an innovative loyalty rewards platform for customers to discover their favorite brands and earn onchain rewards.
We have been busy building out the technology to not just make this possible, but make it super simple and fun!
Each week we test new features and integrations to make the experience more interesting and rewarding, both for the brands and customers who will use it.
Alpha Drops are a limited reward series celebrating those achievements.
Minting these drops is a signal that you stand with innovation and challenging conventions. And wish to shape a limitless, interconnected, and rewarding tomorrow.
The latest Alpha Drop is an Open Edition. It is free to claim and expires in 7 days.
To reveal the latest drop, you will have to complete 2 steps. Completing one will reveal the next step.
Here's our announcement on the X app (formerly Twitter) -
Thank you to everyone who has claimed a loyalty reward from our site. We are excited to have you all join our journey.
LFGrow 🌱
Humpty (aka datadood)
Collect this post to permanently own it.
Subscribe to Onchain Alpha and never miss a post.